Whatever you do, don't wait to start training your puppy!
Your puppy is like a little sponge and most impressionable under 6 months. Did you know that even Guiding Eyes For the Blind start their puppies' training before they leave their littermates and mom, before 9 weeks?
I hear so many sad stories of new puppy owners who were told to wait to start their puppy's training. This is bad advice and should never be followed! By the time they started their puppy's training so many bad habits had already set in.
Your puppy can learn commands like sit, down, stay, leave it, off, as well as so many other cues and behaviors like coming when called, and walking nicely on a leash, as early as 8 to 12 weeks. These are the skills you want your puppy to have for the rest of their life! For example, we never teach "shake" or "high-five" as one of the first few commands, this is covered in great detail inside our online puppy training program.
Now the key to dog training is knowing what commands to teach, and in which order to teach them so your dog doesn't get confused or overwhelmed, as well as how to teach those commands to your puppy in a progressive way.
Progressive training means we start training with low-level distractions going on near your puppy and gradually introduce medium and higher level distractions as training progresses. Progressive training is better than flooding your puppy with new commands too soon in highly distracting situations or environments!
If you've ever asked your puppy to "sit n stay" and then tried to walk away, hoping they don't move… but instead, they got up, followed you, and you thought they were just being stubborn. I guarantee you it's because you increased the training level too quickly, not because your dog was being defiant! Inside our online puppy training program, we cover the best way to get your puppy to stay for an extended period of time even if kids race by or a cat taunts your pup as they meander past.
If you are a visual learner as most humans are, you'll find the online puppy training program, 30 Days to Puppy Perfection, the perfect solution when it comes to getting your puppy to stop unwanted behaviors like accidents in the house, puppy biting you or chewing your furniture, jumping on you or guests, barking at people passing by outside, pulling on the leash while out for a walk… oh, the list can go on and on. Watch as the trainer shows you exactly what to do to solve all sorts of unwanted behaviors and how to introduce each new cue to your puppy.
Learn about the best training rewards to use, when to wean off treats, what tools and supplies you should be using and which are a waste of money! Yes, this puppy training program uses positive dog training techniques to achieve the fastest results… no scary old school training methods here!
Inside the online dog training program, you'll be able to watch step by step how-to videos with instructions for each training game you should be playing with your puppy so that by the end of the 30-day program your puppy will have impeccable manners and great listening skills.
Online learning is a phenomenal way to learn all about puppy training without having to leave your home or head to a hectic, noisy, cramped big box store for group training classes. You definitely won't have to hire a really expensive private trainer to come to your home either. You'll save time too because you won't be sifting through YouTube videos watching various trainers try to explain how to fix your dog's specific problem. There are millions and millions of videos out there.
Want to teach your puppy to come running when called, we've got games for that. Need to walk your puppy without getting your arm yanked out of its socket, we've got games and lessons for that too.
With the game-like training lessons covered inside the program, which has over 40+ videos, you'll discover a solution to each problem you may be having with your puppy or the solution to troubles you may have in the near future with your pup!
Not only will you solve puppy woes but you'll be teaching your puppy have to have the best manners on the block!
You'll probably have a couple of questions along the way that need personalized answers. No worries you'll have direct support from Michele Lennon a certified trainer with 20 years experience, and her crew of experienced dog experts. Once you become a student with 30 Days to Puppy Perfection you get access to an exclusive student-only Facebook group where puppy owners post questions, show off homework videos for personalized feedback, and where you can connect with other puppy owners going through the exact same trials and triumphs as you!
30 Days to Puppy Perfection has students logging in to watch training lessons from across the globe. If you want to train at midnight or the middle of the day, while wearing your pajamas, you can since you control how fast or slow you go through the program! (We don't judge!)
Each week a new module will be unlocked for you and your puppy to discover even more training games and lessons. There are a total of 4 modules. Lessons are designed to progressively take you from foundation games and skills all the way through more advanced skills including training outside or in public.
If you only have a few minutes to spare each day you'll be able to train your puppy in no time. By the end of 30 days, your puppy will be more behaved than those dogs completing puppy classes at the big box stores. After all, they only meet with you once a week for a total of 6 lessons. You'll leave there with only what you can remember. You don't get unlimited support once those classes are done. Inside 30 Days to Puppy Perfection you do!
With 30 Days to Puppy Perfection, you'll have unlimited access to the entire program. This means you can watch and rewatch any video whenever you and your puppy need a refresher.
If you decide to add a second, third or fifth dog to your family, they will need training too. You guessed it, you can use 30 Days to Puppy Perfection to train them too!
Worried that by not going to a group class your puppy will miss out on crucial socialization? Think again! Inside 30 Days to Puppy Perfection, you'll discover the best ways you should be socializing your puppy… and it's not only by letting your puppy be exposed to other dogs, where you don't know the temperament of any of the other dogs in that class before signing up. You just never know what the other dogs in class are like until the 1st night of class, most times neither does the trainer, YIKES. 😨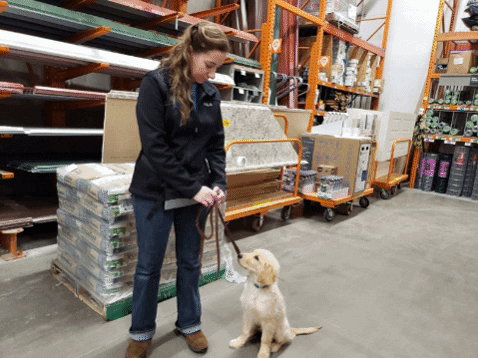 Imagine one month from now… your puppy walking like a dream next to you, following every cue without hesitation, stopping all unwanted behaviors like chewing, biting, accidents, you get the picture… it's obtainable, for puppy owners who are committed to their puppy's training!
Are you committed to your puppy's training? Ready to build a stronger bond with your puppy? Want to shock friends and family the next time they visit and show off your super puppy? You can start training your puppy today with 30 Days to Puppy Perfection!